HEADPIECES
Drawing inspiration from tribal practices and the elaborate hairstyles of Ancient Rome, this collection explores the idea of deception and self-representation. Though seemingly composed of natural materials, the intricate headpieces are rendered in artificial porcelain shells, a deception only visible on close inspection. Juxtaposing references to classic Roman busts as well as tribal body adornment, the headpieces play on the idea of ornament as a way to represent societal status in a modern context.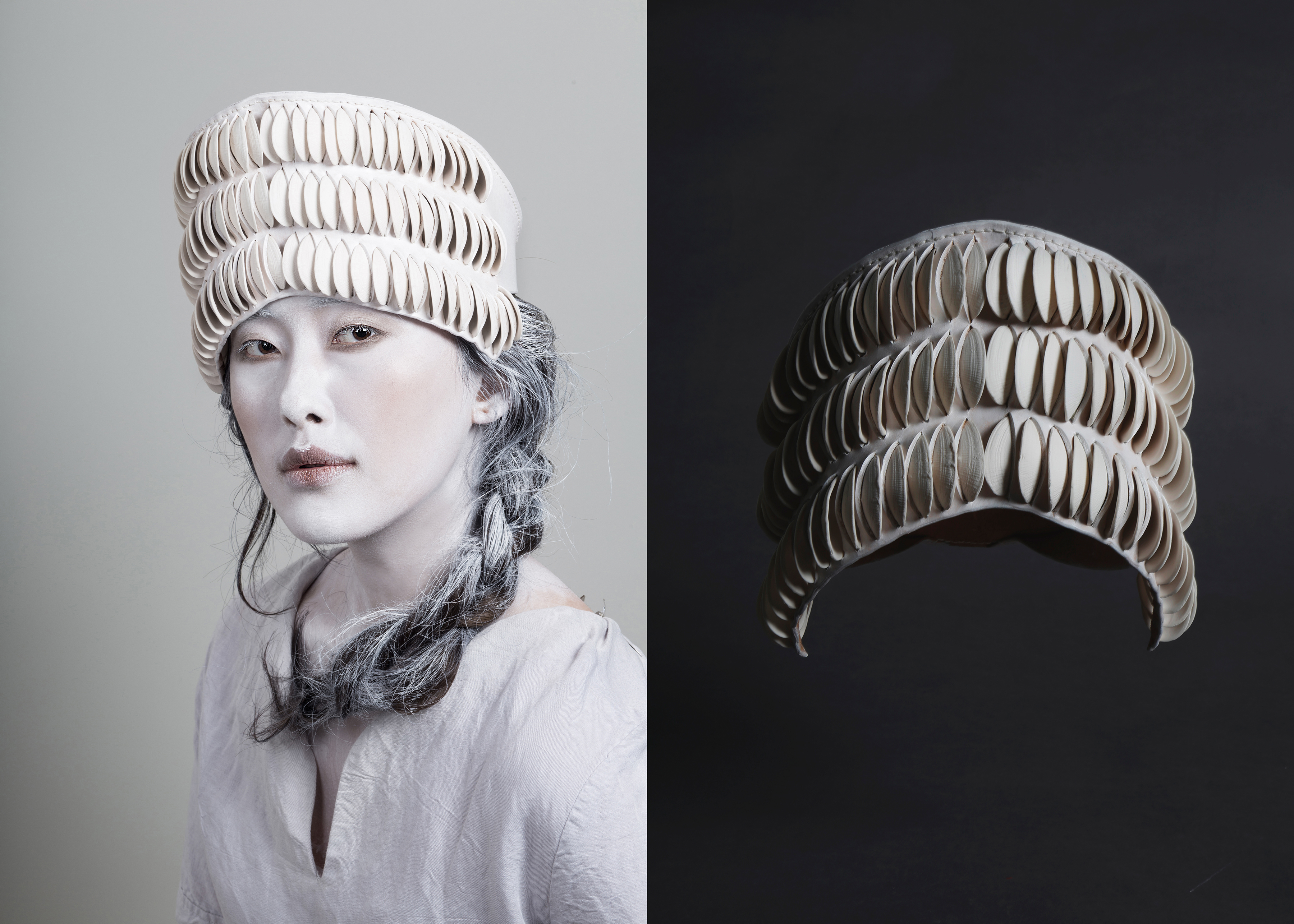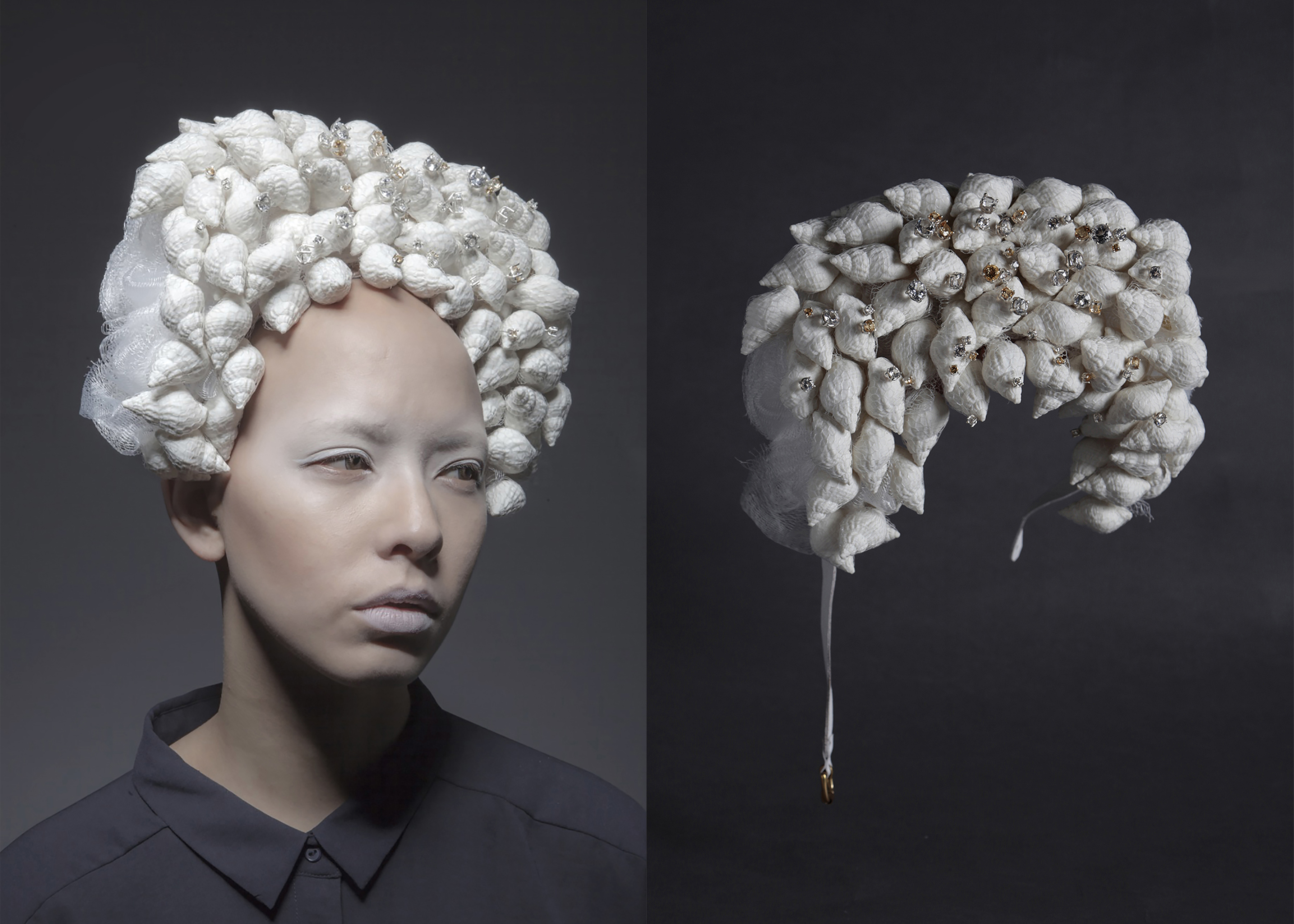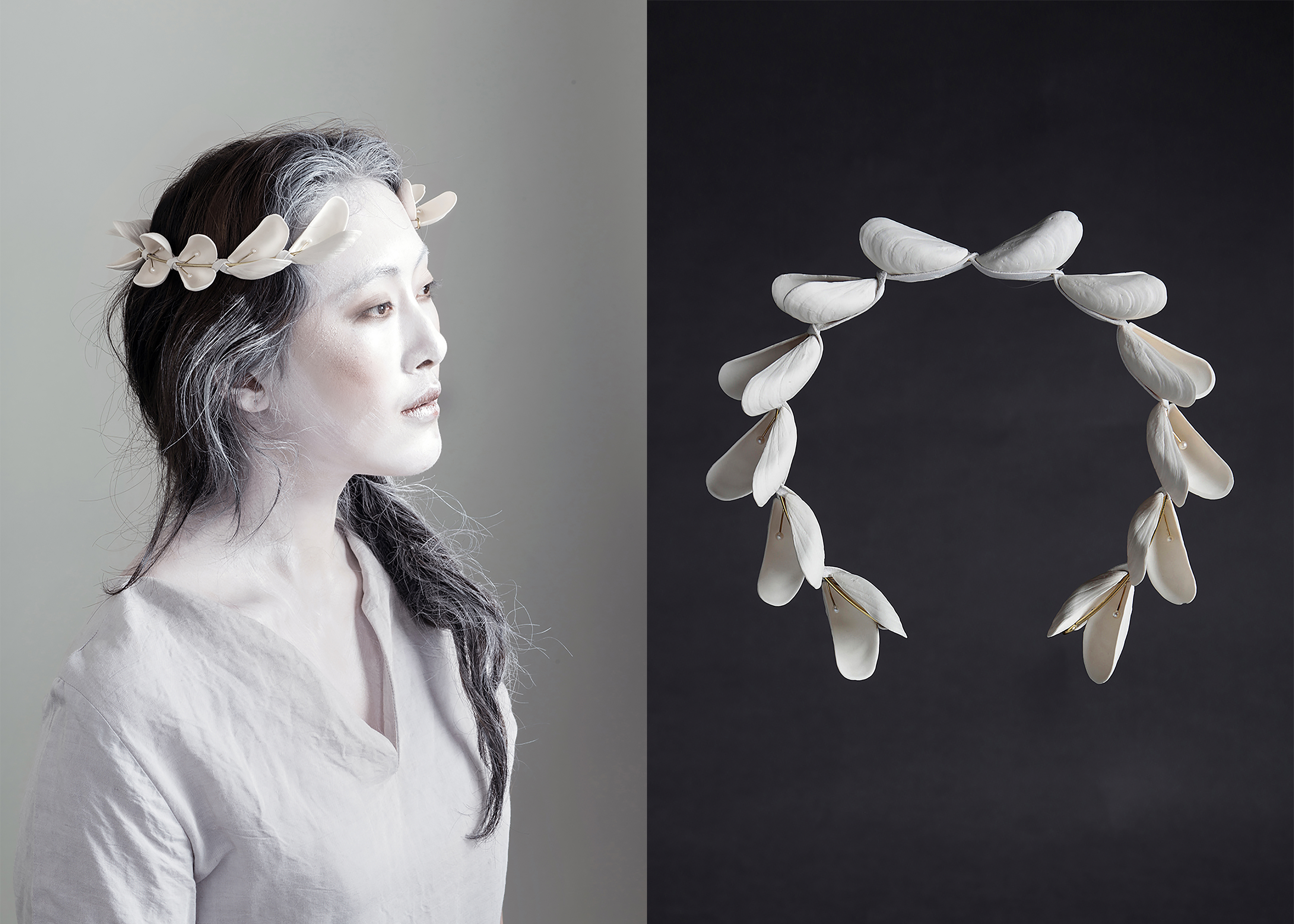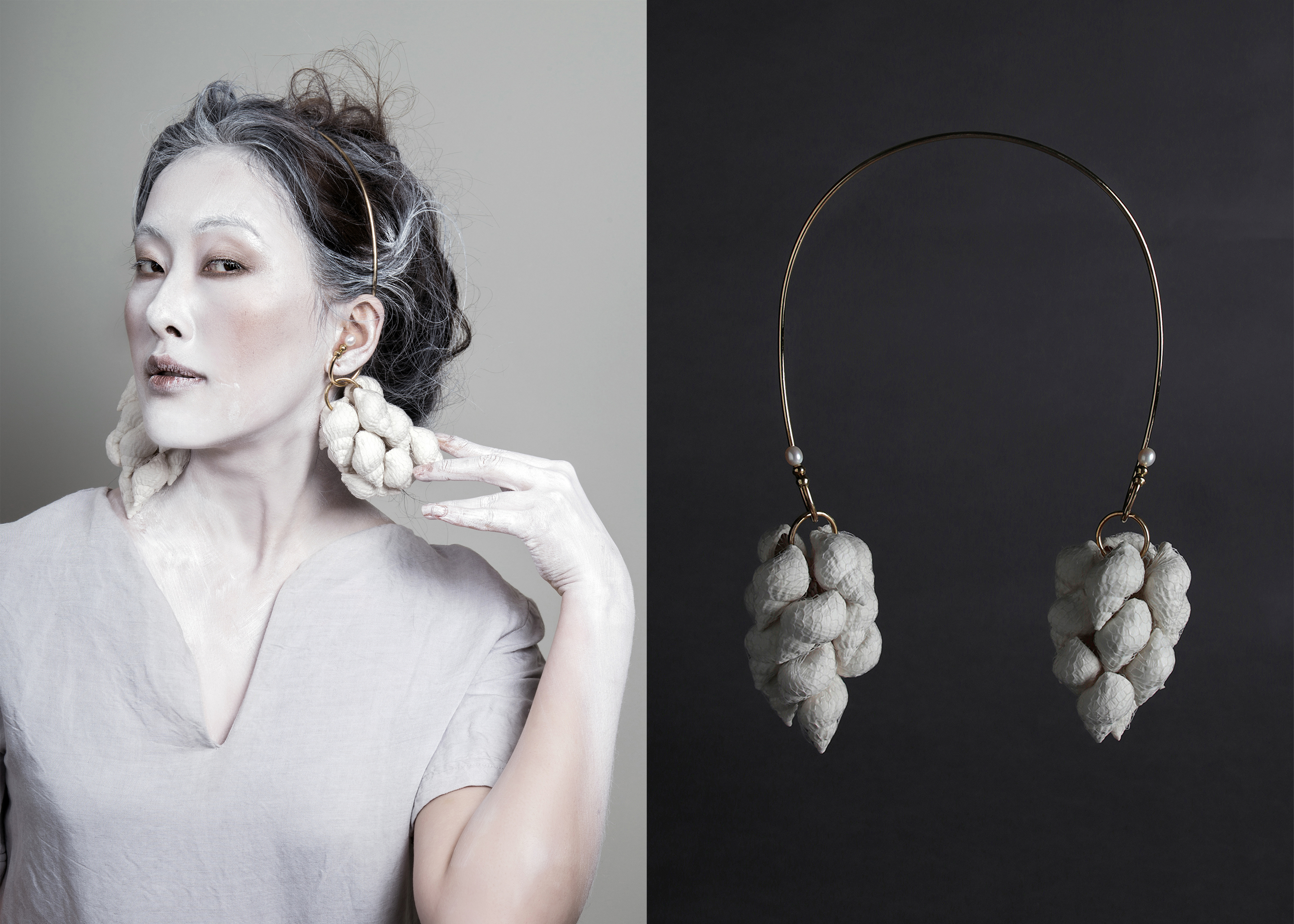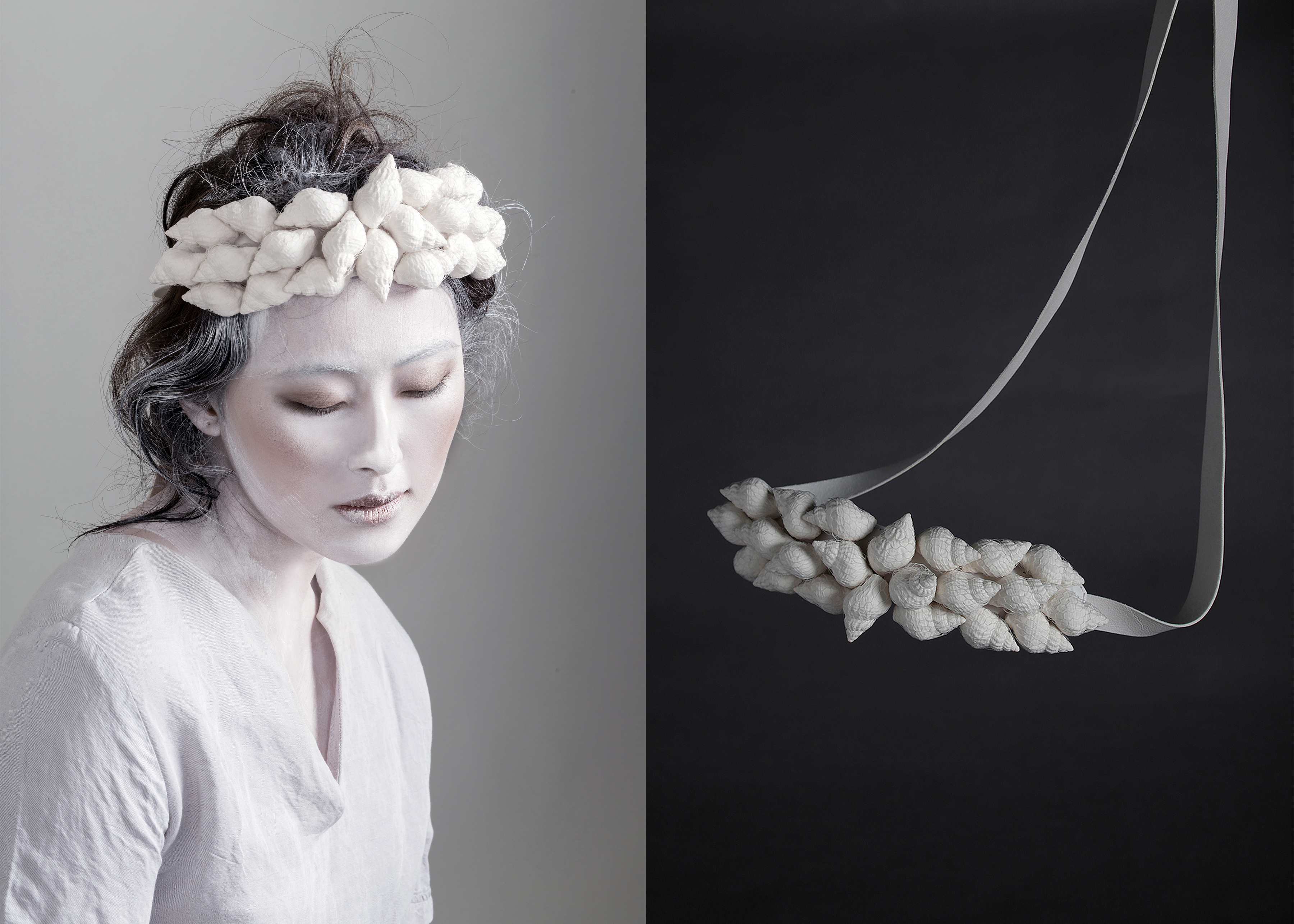 Materials: Porcelain, leather, brass, nylon. Text: Caroline Madden. Photograph: Currisa Cheng, Fiona Kakei Chong, Barney McCann. Model: Lucy Feng, Alice Hurei
*
Revalued
As part of the research project between the BA Jewellery Design course at Central Saint Martins and the Foundling Museum, a response in the form of jewellery is made for the exhibition 'Finding' at the Museum and 'Tokens of identity' workshops were conducted by jewellery students for local secondary school children.
The work 'Revalued' is inspired by the billet books where any distinguishing features of an incoming foundling were recorded. Marks of identity become important symbols of presence, existence and belonging. This idea is interpreted into jewellery by collecting pieces of metal found in the jewellery workshop's scrap bin and worked each into a new piece of jewellery. The pieces are stamped with quotes from former pupils of the Hospital and worn as pendants; an attempt to establish a new and individual identity to these once abandoned items.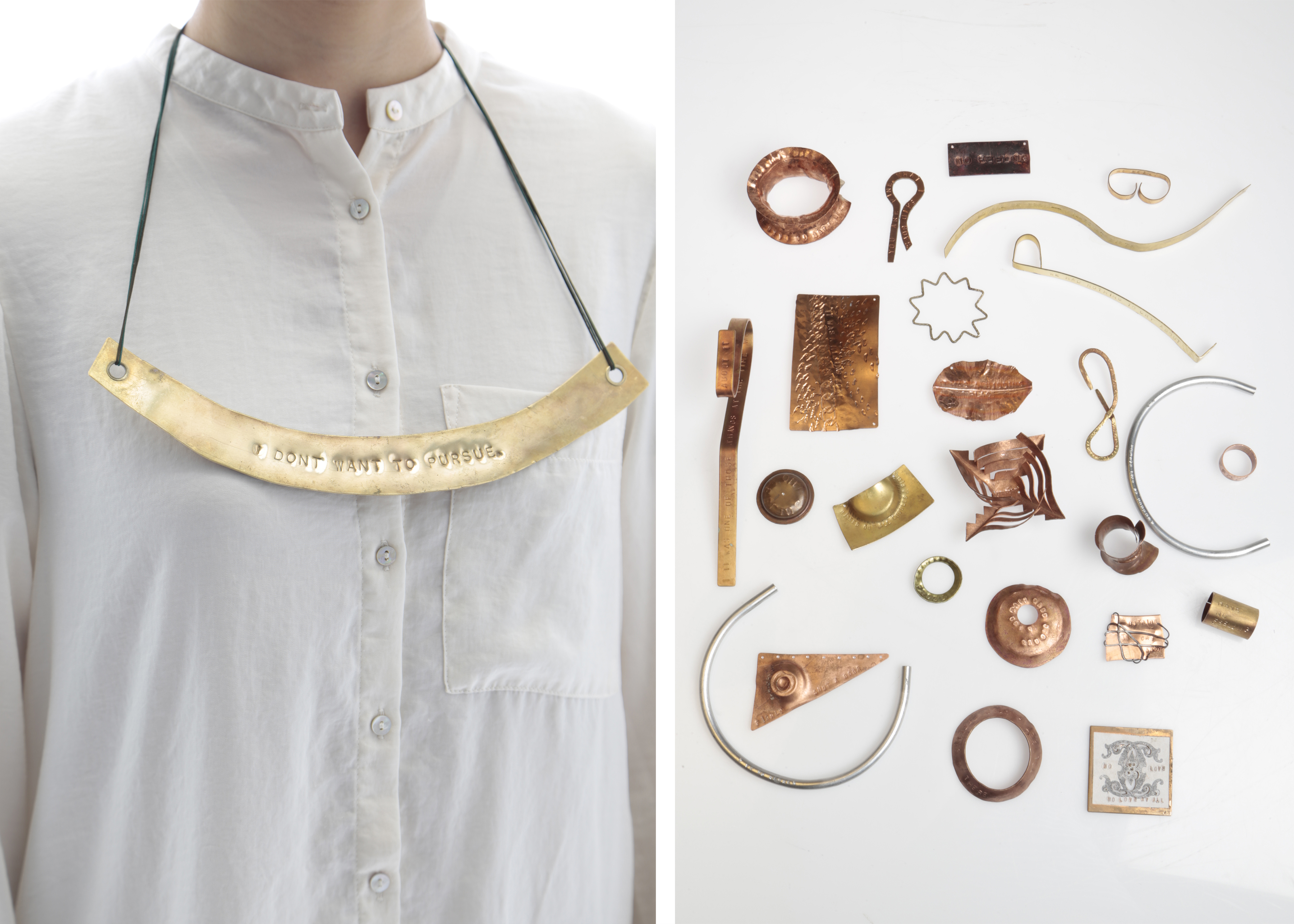 *
Colours of Flight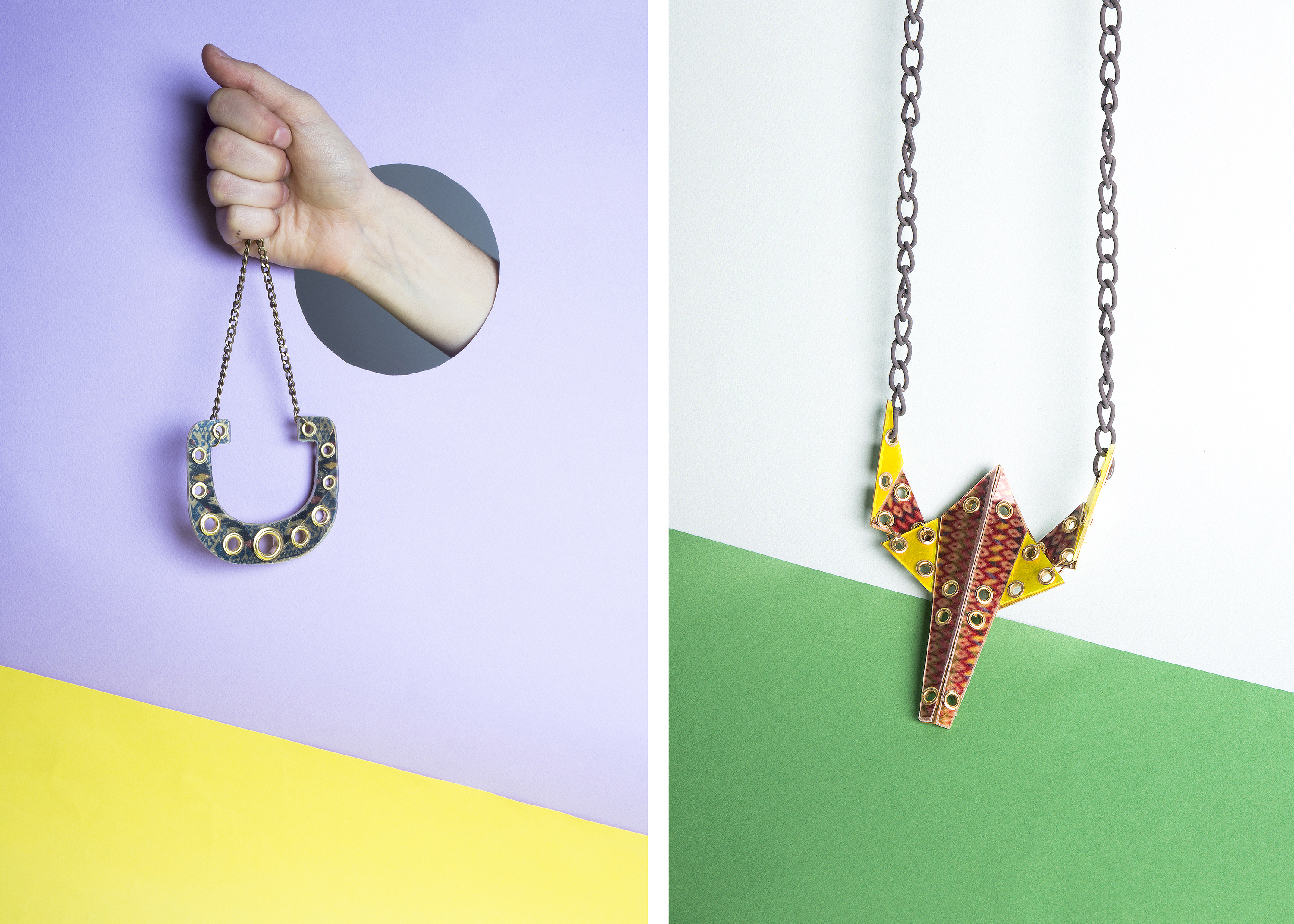 Materials: Acrylic, print on acetate, eyelet, metal chain. Photograph: Letizia Guarino, Kaori Oyama
*
Tin Glove
This armoury glove is a notion of recycling as protection to our environment and future generations. Made entirely with recycled tin food can, the cut-outs and mesh-like structure forms around the contour of one's hand.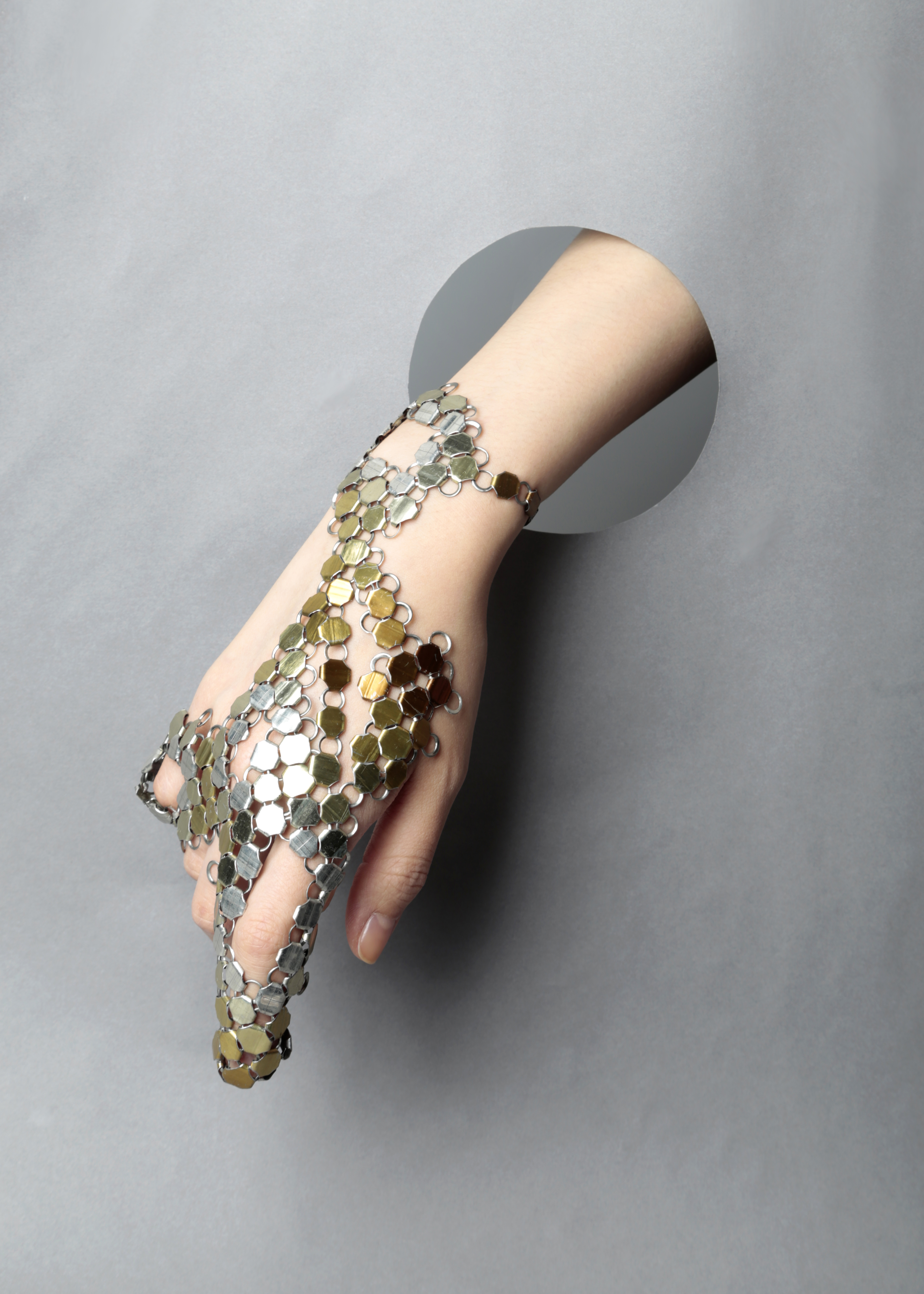 Material: Tin. Photograph: Fiona Chong. Model: Fiona Li.
*
Cotyledon
A cotyledon is a significant part of the embryo within the seed of a plant. Upon germination, the cotyledon usually becomes the embryonic first leaves of a seedling. (Wikipedia)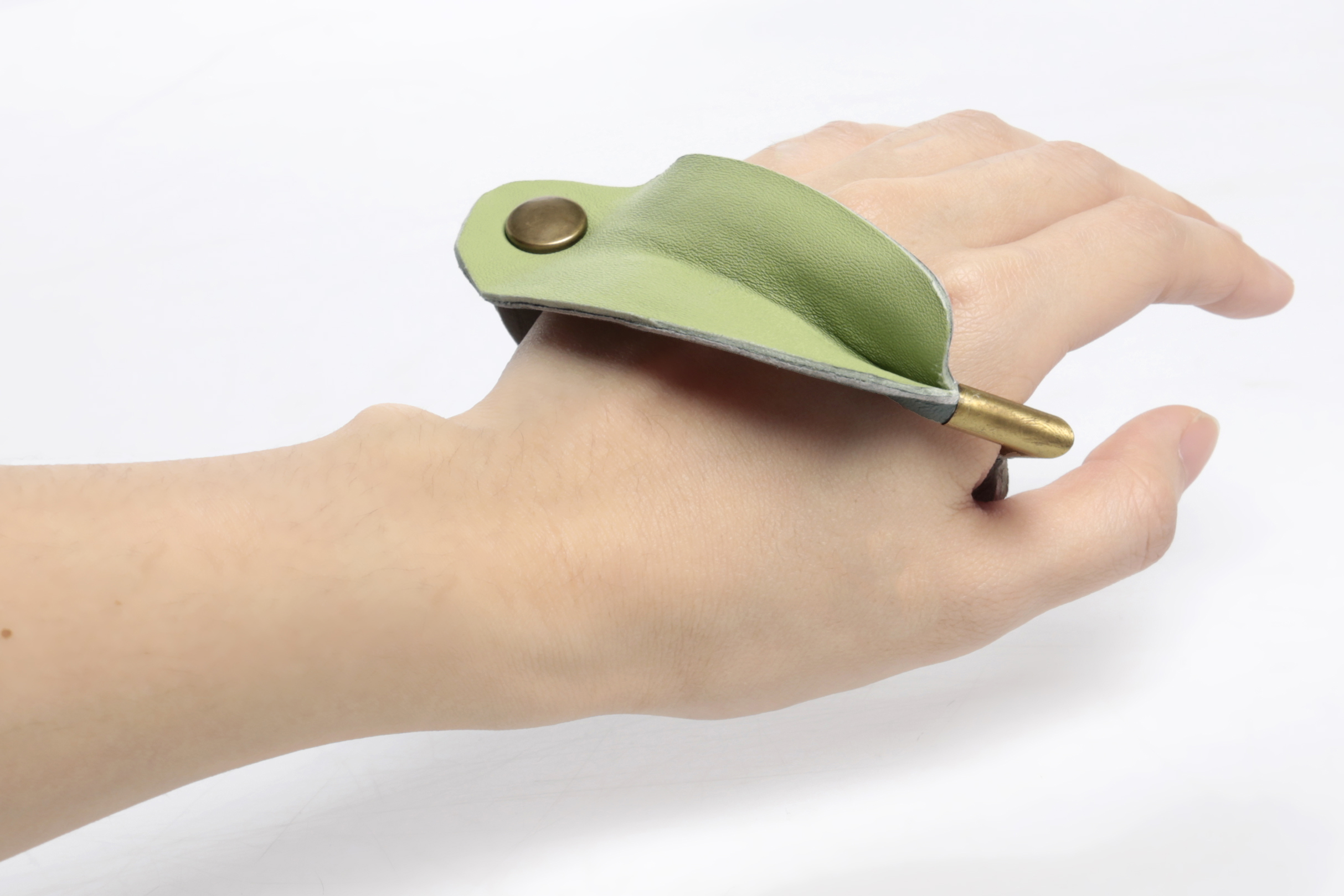 Materials: Leather, brass. Photograph: Fiona Chong.
*
Fate or Chance
"Choices are made in brief seconds and paid for in the time that remains." Paolo Giordano
This medal explores the topic of decision making in response to fatal car accidents involving teenage drivers. The crumpled paper texture symbolises "what's done cannot be undone", while the reverse side is carved with a seizing hand, illustrating one's free will to choose and decide our future. The context of a medal presents the contrasting nature of having given choices and the fate that lies beyond the decision. The weight of the medal suggests how heavy decision making can sometimes be.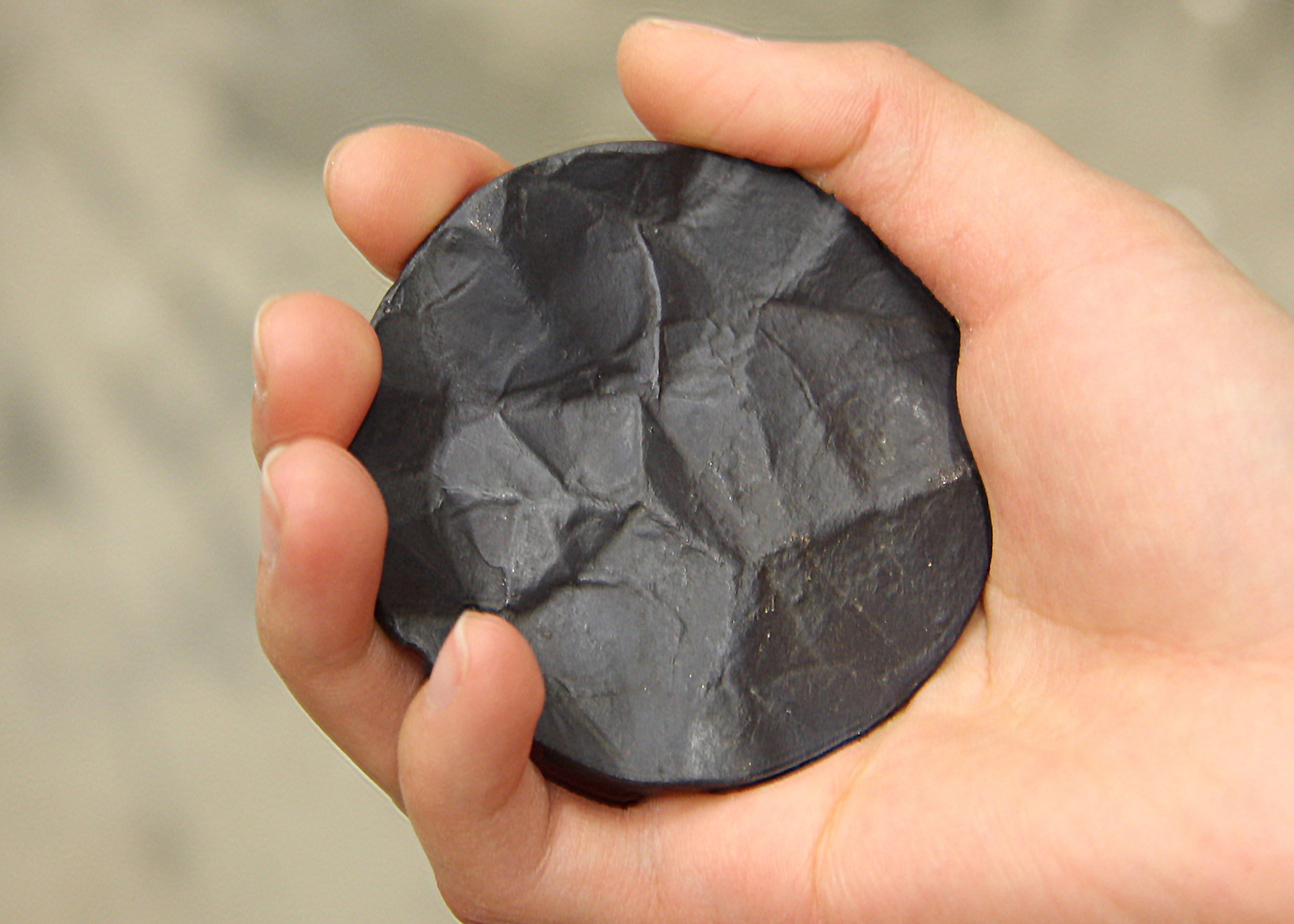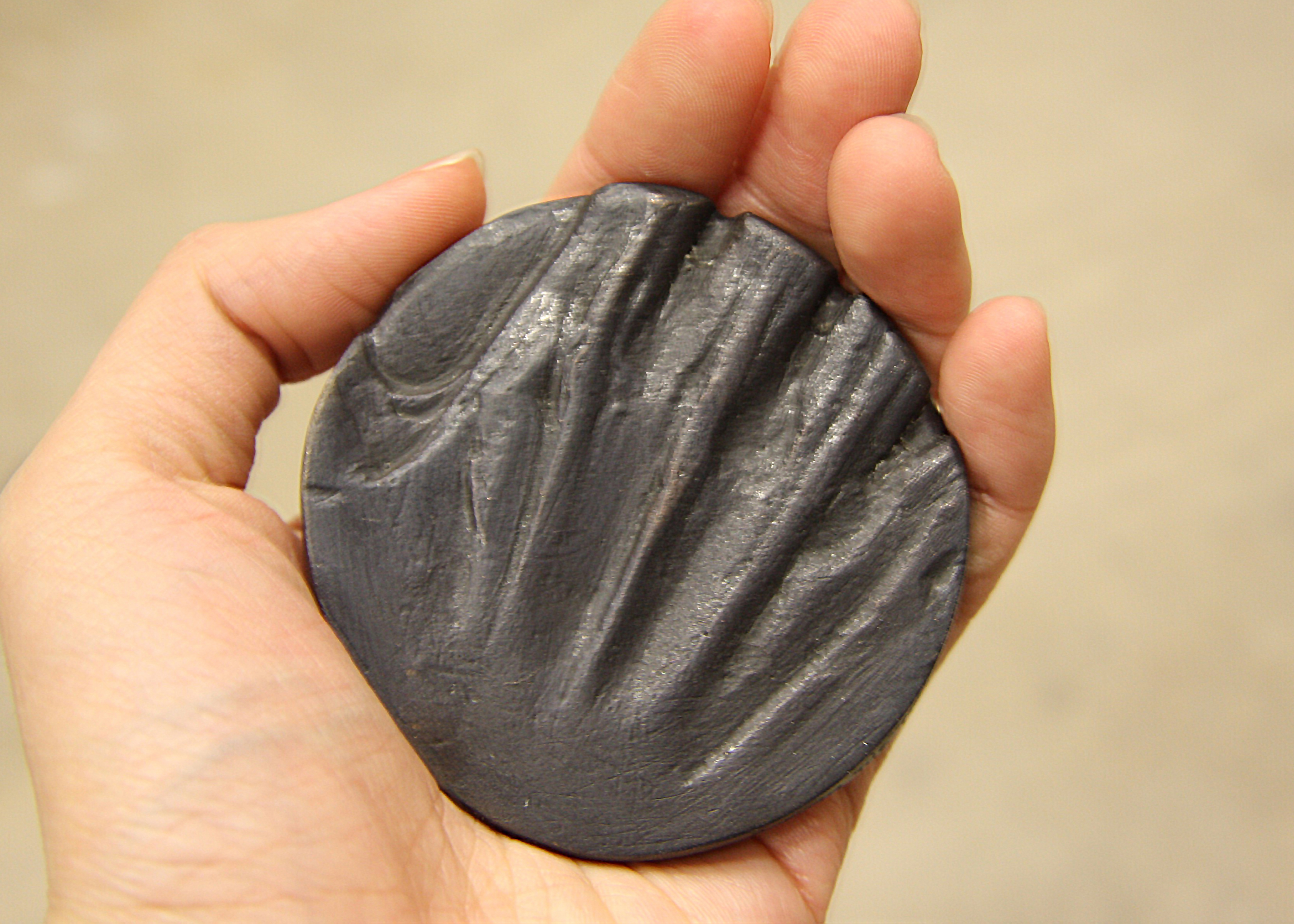 Material: Guilding metal
*